What is public relations?
This article gives you a precise overview of public relations and how best to understand all the different parts of the profession.
I've got a Bachelor's Degree in Public Relations and a Bachelor's Degree in Linguistics from Mid Sweden University, and I've advised 100+ brands since 2005.
Let's get right into it:
What is Public Relations?
Public Relations, also referred to as "PR," is the process of shaping perceptions and influencing decision-making. Various activities are involved in this field, including media relations, public affairs, crisis communications, and online communication.
PR firms work with individual business owners to large corporations or organisations with or without an established public profile.
How do you define public relations?
Someone once tried to count the number of actual definitions of public relations, but they allegedly gave up after finding over 2,000+ different versions. 1Admittedly, this is probably just an urban PR legend.
Amongst so many definitions of public relations, here's the definition that I find to be most useful.
PR (public relations) = the strategic and tactical use of communication to develop and maintain relationships with stakeholders, influencers, and publics. 2See also How To Define Public Relations.
Where:
What is the role of public relations in an organisation?
The organisational function of public relations is to manage relationships with stakeholders, influencers, and publics.
Stakeholders are individuals or groups with self-interests connected to the organisation, like shareholders or employees.
Influencers are individuals or groups with sway over critical issues and relevant audiences, like journalists or thought leaders.
Publics are individuals or groups formed around relevant issues with similar communication behaviours, like activists or interest groups.
Different Types of Public Relations
PR professionals are responsible for promoting an individual, group, or organisation through various methods. Our profession has many different specialisations, functions, and duties.
What are the different types of PR?
There are many ways to segment the practice of public relations, and this model is one of the most commonly used:
What is Media Relations?
Most people who have heard about PR know it involves managing the media. We call these practices Media Relations.
These PR professionals are often called Media Relations Specialist, Press Secretary, Press Agent, or Publicist.
What is Lobbying?
A Lobbyist is tasked with influencing legislators and politicians on behalf of special interest groups. They compile reports, advise, present arguments, arrange hearings, and put influential people together.
Lobbyists are often ex-politicians with valuable networks who know the ins and outs of the political arena.
What is Public Affairs?
Public Affairs Specialists is also geared towards politics. However, where lobbyists target legislators, PA professionals mainly directly influence voters. They're also sometimes referred to as Spin Doctors.
The lines between different specialisations are rarely set in stone; an organisation could recruit a lobbyist to run someone's political campaign. The campaign manager often becomes a press secretary if the politician is elected.
From lobbying to public affairs to media relations — all in a few months. There's nothing strange about this. And it happens all the time. But media relations specialists and political communicators still only make up a small percentage of everyone working with PR.
What is Corporate Communications?
The majority of all PR professionals work as Corporate Communications Specialists. They work in organisations that manage various communication needs, from setting the corporate PR strategy to implementation and agency management.
The Corporate Communications function is in charge of what, when, where, and how an organisation communicates with the world.
What is Investor Relations?
Investor Relations is a specialised sub-category of Corporate Communications. An IR specialist focuses on managing financial communication, like compiling annual reports, monitoring economic market trends, and managing investors, shareholders, and other financial interests.
What is Crisis Communications?
Crisis Communications Specialists focus on planning and managing communications during an emergency, but they also take proactive measures to prevent such crises from manifesting. This part of the work is also referred to as Issues Management.
Crisis Communications can seem very exciting, but working amid personal tragedies can be psychologically taxing. I remember every detail of every crisis project I ever managed. More often than not, sombre stories are underlying it all.
What is Marketing PR?
Some PR professionals are Marketing PR Specialists. These PR activities aim to increase sales of products or services directly. It's expected that these types of PR activities are designed to support campaigns run by the Marketing Department.
These PR professionals typically manage the review program for product launches, sending out product samples to influencers and journalists. The work can also be highly creative to generate guerrilla-type word-of-mouth campaigns.
What is Internal Communications?
We mustn't forget about the unsung hero of the PR profession—the Internal Communications Specialist.
Internal Communications typically deals with Communication in Organisations, Communicative Leadership, Employee Advocacy, Intranet Communication etc.
What is Inbound Communications (Digital PR)?
The Digital PR Specialist still goes by many aliases: Digital Strategist, Content Creator, Community Manager, Inbound Specialist, Social Media Manager, Webmaster etc.
The overlap with other professions, such as marketing, SEO, branding, digital etc., is still considerable. Things are moving fast, and much of the Doctor Spin blog is focused on discussing and examining these changes.
What is Industry-Specialised PR?
Many PR professionals find themselves becoming specialised in specific industries or business-to-business. Some specialisations are professionals focused on the medical industry since it is governed by complex legislation. Others are focused on manufacturing, technology — and the list goes on.
Of course, few PR professionals are working full-time within their specialisations. Most of us, myself included, must manage all types of PR tasks.
Frequently Asked PR Questions
Public relations is creating communication between an organisation and its publics. Below are some of the web's most frequently asked questions about PR.
Is PR a good career?
PR is an exciting career choice for anyone interested in social power dynamics, psychological behaviour, media logic, and practical communication (writing in particular). The pay is typically good, but junior professionals often expect to put in many unpaid overtime hours for entry-level salaries.
Why is PR important?
Having bad PR is detrimental to an organisation. Dissatisfied customers share negative sentiments far and wide. Angry activists will make everything much harder than it needs to be. If investors and shareholders lose their confidence, it might spell the very end for a business. Unmotivated and angry employees will result in serious backlashes that keep on coming. Managing PR is a consideration for any organisation.
What are the advantages and disadvantages of PR?
The main advantage of PR is its focus on earned, shared, and owned media. While marketing is focused on paid media, like different forms of advertising, PR doesn't have to rely on media budgets. Compared to marketing ads, PR messages are typically more editorial and valuable to the media consumer.
The main disadvantage of PR is the lack of control. While marketers typically pay for space, PR professionals must earn it. When pitching a news story to a journalist, or a content idea to an influencer, it's ultimately up to the platform owner if they want to run with the story or idea.
Is PR difficult?
The basic tenets of PR are simple — in theory.
In practice, of course, all of this is challenging to sustain and continuously manage.
Who needs PR?
Everyone has some form of PR already. Everyone has existing relationships, and everyone is being perceived in specific ways. This is true for both individuals and organisations.
Anyone who wants to change or maintain these relationships and perceptions can use communication strategically, which is why the PR function exists.
Is PR cost-effective?
PR as an outreach tool is comparable to marketing and paying for advertising space. While you don't need to pay for editorial space, you must compensate by investing the equivalent resources in PR strategy and practical trial-and-error.
However, PR is exceptionally cost-efficient when establishing and maintaining long-term relationships with stakeholders, influencers, and publics. The alternative cost of suffering bad PR is typically extremely high.
How do you measure PR?
Brands can measure PR in several ways. Communication maturity can be calculated for an organisation and used as a benchmark against other organisations. On the campaign level, outcomes and effects can be identified and quantified.
Today, measuring publicity and converting it into ad cost equivalence is considered to be an outdated practice. 3See also How To Measure Public Relations.
One recent approach is to measure communication maturity.
What tools do PR professionals use?
PR professionals can typically do most of their work using only email software and a phone. Many also invest in media monitoring services, a wire service for distributing press releases, and hosting online newsrooms.
Digital PR specialists often use specific SEO tools, social media schedulers, and inbound software.
What skills does a PR professional need?
Essential PR work often requires strong writing- and communication skills. And there's usually a time constraint or a deadline that the PR professional must meet.
Writing well — and writing fast! — these are essential basic skills in PR.
But there are many different types of typical PR objectives:
The History of Public Relations
Edward Bernays (1891-1995) is the father of public relations.
His uncle was the famous psychologist Sigmund Freud, and Bernays, too, was interested in human behaviour.
Bernays certainly was something of a character: His most famous book is titled Propaganda — in which he outlined how to manage the perceptions of crowds, much like modern Niccolo Machiavelli or Sun Tzu.
Case Study 1: Lucky Strike
When helping Lucky Strike, Bernays realised that cigarette smoking was mostly a male habit. From a business perspective, there was a golden opportunity to add half the population to Lucky Strike's list of potential customers.
No one had done this successfully, not because no one ever had that idea, but because it was a tough nut to crack. But Edward Bernays succeeded.
He succeeded by tapping into another prevailing trend in society: The emancipation of women.
Bernays planted the public perception of women smoking not because it was enjoyable but as a symbol of female independence. He partially did so by placing the idea in articles, newspapers, celebrity endorsements, and events.
Cigarettes were framed as 'Torches of Freedom'.
Case Study #2: Eggs and Bacon
Another PR legend is how Bernays helped the farming industry convince people to eat more eggs and bacon. To make this happen, he wanted to change people's perception of when it's okay to eat eggs and bacon.
Bernays cooperated with food scientists to establish that eggs and bacon should be part of a healthy breakfast for every American. And to manifest this, he collaborated with chains of hotels to have them serve eggs and bacon for breakfast.
Have you ever had eggs and bacon for breakfast at a hotel? Well, you can thank Bernays for that idea.
Public Relations as an Industry
Communications departments help manage an organisation's reputation by communicating with publics inside and outside the organisation.
What is the difference between a Communications Department and a PR Department?
Essentially, a Communications Department is the same as a PR Department.
In-house PR professionals are generally referred to as Communicators or Communication Professionals. They typically work in a Communications Department.
A few decades ago, it was more common to refer to the PR Department for the same function. Still, the general idea is that 'Communications' sounds less offensive, and this is because 'PR' as a term has caught a bad reputation.
What is the difference between a PR Agency and a Communications Agency?
While PR Departments successively rebranded themselves as Communications Departments, PR Agencies remain referred to as PR Agencies.
The psychology behind keeping 'PR' is likely due to the simple fact that PR is often equated to Media Relations. And many Communication Departments favour outsourcing their Media Relations to specialist PR Agencies.
It should be noted, though, that the trend is that many types of agencies (advertising agencies, digital agencies, PR agencies etc.) are positioning themselves as Communication Agencies. Due to the digital transformation of society and business, lines between disciplines are blurred. This is challenging for anyone looking for the right kind of agency.
How is PR portrayed in popular culture?
Samantha Jones in Sex and the City is a PR professional, but her job isn't exactly the focus of the series. Still, Jones would be regarded as a Media Relations Specialist or a Publicist.
The same goes for Stu in Phone Booth and Eli Wurman in People I Know. CJ Cregg in the West Wing works as a Press Secretary.
PR professionals working closely with the media only make up a small percentage of the PR profession. Still, they are most often portrayed in television shows and movies.
If Hollywood had primarily focused on Media Relations Specialists, Public Affairs Specialists would rank second.
In the comedy Wag the Dog, Conrad Brean is a Spin Doctor called in to help the US president manage — and, when possible, also avoid — a series of crises.
Nick Naylor is a fictional Lobbyist in Thank You for Smoking. His job? To lobby for Big Tobacco.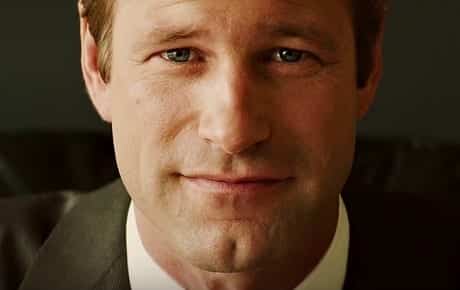 See also Spin Doctor Movies.
Why does PR have such a bad reputation?
"A squirrel is only a rat with good PR."
Persuading people to smoke cigarettes and consume more meat isn't exactly making the father of public relations, Edward Bernays, the ideal poster boy for the profession.
And Hollywood isn't exactly helping, either. In popular culture, the PR profession is often portrayed as a tool for manipulating the media.
Also, there's a natural tension between journalists and PR professionals.
Journalists protect the general interest.
PR professionals protect special interests.
As PR professionals, we often operate behind the scenes. We might write the speech, but we don't deliver it. We might pitch the story idea but don't write the article. We might suggest eggs and bacon, but we don't serve it.
Unfortunately, an inherent lousy reputation is something that the public relations industry has struggled with ever since the start. For a profession that deals with reputation management, this is, of course, the great irony of our industry.
The Complexity of Public Relations
Communication is the foundation of public relations. Public relations professionals understand that communications occur in many forms, and they use a variety of channels and tools to share their message and align their organisation's goals with those of its audiences.
What are publics?
In marketing, the focus is on target groups. In PR, the focus is on the public — a group of people who share similar communicative behaviours in a given situation. 4See also The Publics in Public Relations.
Which are the stakeholders in PR?
In PR, we often talk about stakeholders. It varies from organisation to organisation, but typical stakeholders are financial markets, corporate stakeholders, the general public, legislators and politicians, customers, employees, the media, online audiences, and angry and worried people.
The stakeholder model is significant since it defines the various types of specialisations within PR. Based on the stakeholder model, it's reasonable to point out the necessity of PR since marketing is focused only on the actual market ("customers") — leaving several key stakeholder groups out.
Note that the only contested stakeholder here is "online audiences" since many other disciplines, mainly in marketing, are claiming responsibility for them. Online audiences cannot be categorised as "customers only", but PR is struggling to amass the necessary competencies to succeed with online audiences.
See also Stakeholders in Public Relations.
What is the PESO model?
A popular way to highlight the difference between public relations and marketing is to use the PESO model. PESO stands for Paid, Earned, Shared, and Owned media.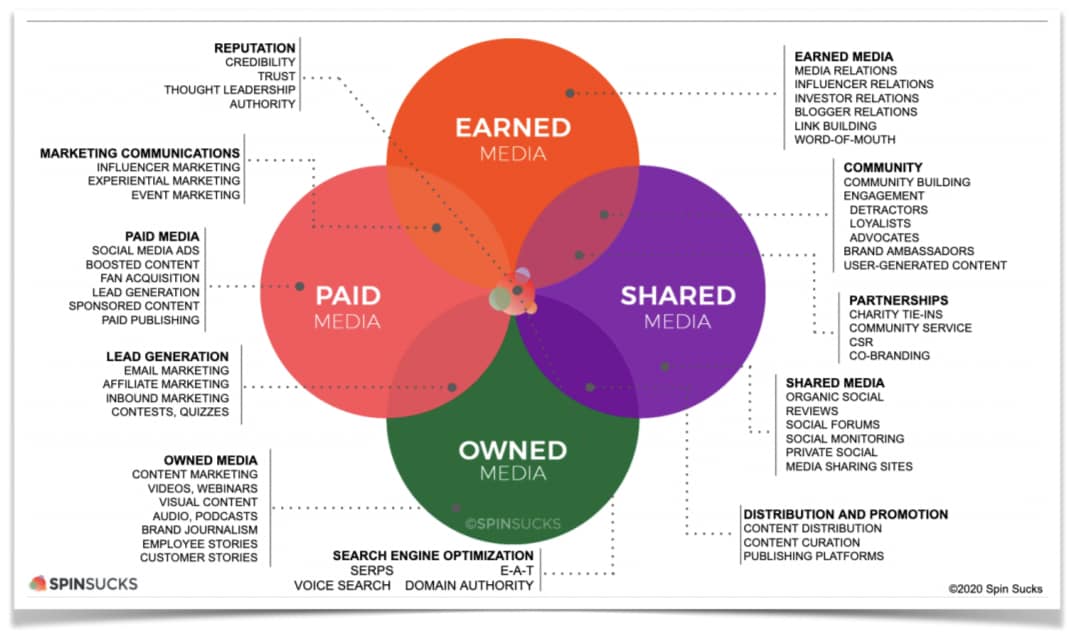 The PESO model is somewhat controversial, though. It suggests that specialised industries, such as Inbound Marketing, Content Marketing, SEO, etc., are categorised as PR specialisations. However, these disciplines typically regard themselves as marketing sub-categories.
What is the best model of public relations?
Grunig and Hunt (1984) developed the most widely cited PR model in academic circles. It's not one, but rather four models in sequence.
Model 1: Press Agent / Publicity. It uses media manipulation to shape the narrative deceptively.
Model 2: Public Information Model. Practising one-way communication to disseminate information with little or no feedback from recipients.
Model 3: Two-Way Asymmetrical Model. Engages in two-way communication to persuade and establish power structures.
Model 4: Two-Way Symmetrical Model. Engages in two-way communication to find common ground and mutual benefits.
In the much-cited Excellence study, researchers found that Model 4 is the best way to practice PR.
However, I belong to the critics of this framework. While anyone can make several strong arguments using it, few can realistically describe no relationships as totally equal ("symmetrical"). 5I also think that Model 1 and Model 2 are unfairly characterised and reflect a widespread prejudice amongst strategists and academics who tend to look down on the practical implementations of PR.
I prefer the Rhetorical Theory in PR, which is said to be originated around 1980 via Robert L. Heath. This approach is focused on composition, forms, functions, means, venues, producers, audiences, effects, and criticism of discourse.
I find it more practical for PR to focus on media logic, semiotics, network theory, persuasion techniques, corporate power dynamics, behavioural psychology for both groups and individuals, moral philosophy etc.
How do you simply explain PR?
One way to think about public relations is to understand how it's different from other disciplines. The below meme is meant to be funny, but while this isn't my type of humour personally, it does illustrate a key point about PR.
Spin For the Win!
In closing:
Public relations is a fascinating, ever-changing, complex, and creative job for anyone who loves everything about communication.