What are some typical public relations objectives?
Most people haven't got the slightest idea about public relations.
Here's a basic definition of PR:
How To Define Public Relations
Someone once tried to count the number of actual definitions of public relations, but they allegedly gave up after finding over 2,000+ different versions.
Amongst so many definitions of public relations, here's the definition that I find to be most useful.
Public Relations (PR) = the strategical and tactical use of communication to develop and maintain productive relationships with stakeholders, influencers, and publics.
Please note:
Stakeholders in PR = incentivised representatives with various interests in the organisation.
Influencers in PR = independent gatekeepers with audiences of importance to the organisation.
Publics in PR = situational groups with similar communicative behaviours affecting the organisation.
Here are a few additional definitions:
"Public relations is an organizational function and a set of processes for managing communication between an organization and its publics."
— International Association of Business Communicators
"Public relations is the strategic practice of influencing attitudes and behavior through communication, which seeks to create and maintain mutually beneficial relationships between an organization and its publics."
— Public Relations Society of America
"Public relations is the management of communication between an organization and its publics, through the use of technology, social media, and other forms of communication to achieve mutual understanding, realize organizational goals, and serve the public interest."
— The Global Alliance for Public Relations and Communication Management
"Public relations is the management function which evaluates public attitudes, identifies the policies and procedures of an organization with the public interest, and plans and executes a program of action to earn public understanding and acceptance."
— Institute for Public Relations
"Public relations is the process of creating, building, and maintaining relationships with key stakeholders in order to achieve organizational goals and objectives."
— Chartered Institute of Public Relations
"Public relations is the art and social science of analyzing trends, predicting their consequences, counseling organizational leaders, and implementing planned programs of action, which will serve both the organization and the public interest."
— IPR Commission on PR Education
Read also: How To Define Public Relations
So, what do public relations professionals do? In short, we manage the communication with various stakeholders: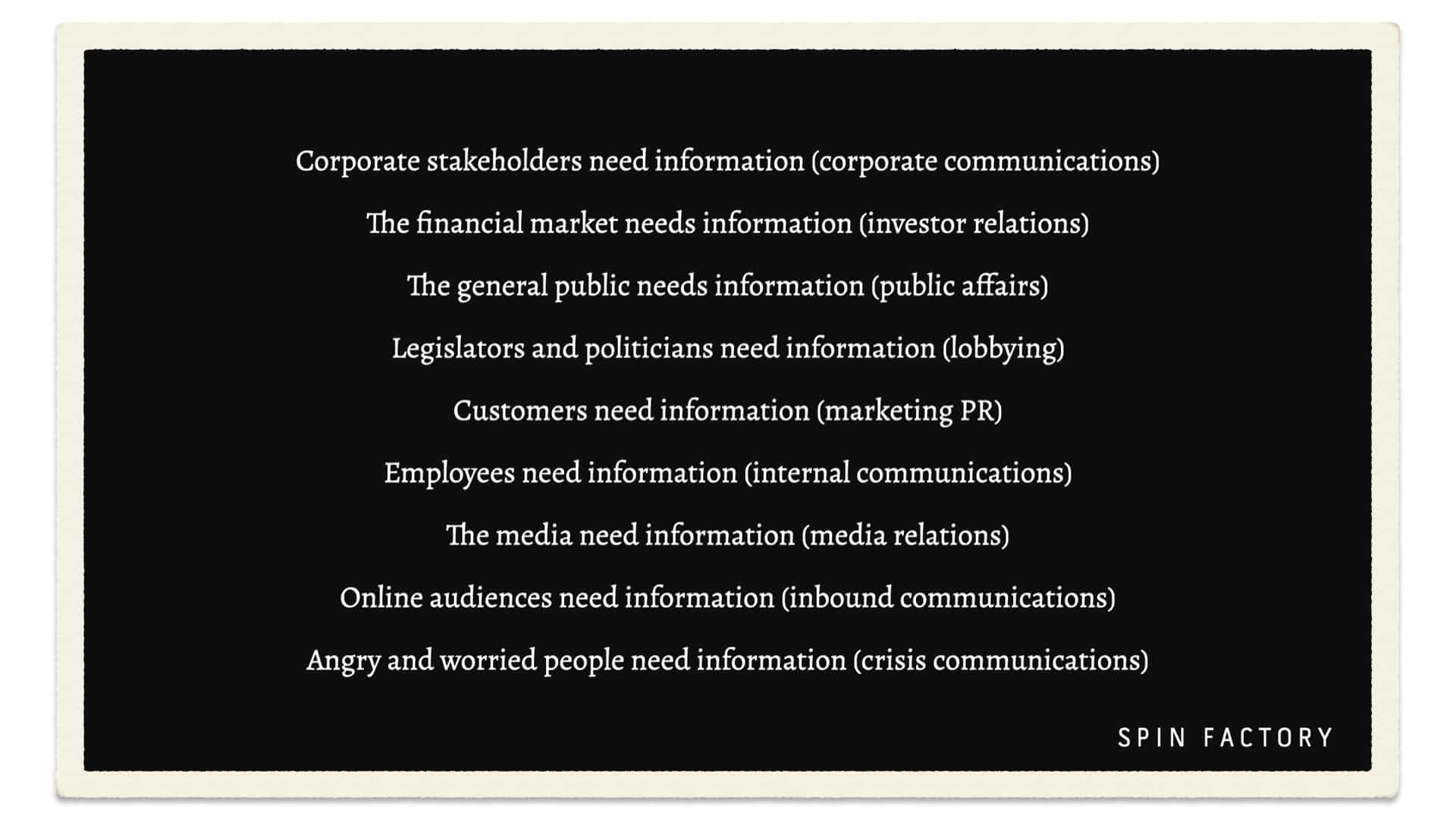 Examples of Public Relations Objectives
We could also take a closer look at a few examples of what types of objectives a typical public relations officer has:
Typical PR Objectives
PR is quite similar to other white-collar industries. A typical day for many office workers might contain:
All of the above is certainly true for the PR profession as well. But more specifically, there are many different types of typical PR objectives: