The PESO model is useful, albeit not perfect.
A popular model to describe the media landscape was classifying channels as paid, owned and earned.
But what about social media, then? Social channels defy classification in an almost elegant way.
Think of brand activities on Facebook to illustrate this "defiance:"
Facebook (when paid): When you advertise your brands, products, and services on Facebook.
Facebook (when owned): When you "own" a Facebook Page and publish editorial content.
Facebook (when earned): When people talk positively about your brand on Facebook.
However, the PR industry soon agreed upon adding "shared" to the model, thus enabling the elegant acronym PESO. 1The PESO model doesn't solve the social media classification issue altogether, but the typical approach considers various activities on sites like Facebook as different channels.
The PESO Model (Modern Version)
The PESO Model
The PESO model divides the media landscape into four different media channel types: 2Please note that there's no industry-wide consensus on whether a social media account (like a brand's Facebook page or Twitter account) should be considered a shared or owned channel. … Continue reading
The PESO model is somewhat controversial, though. It suggests that specialised industries (such as inbound marketing, content marketing, SEO, email marketing, growth marketing etc.) classify as PR sub-categories. However, these disciplines typically regard themselves as marketing sub-categories.
Who Coined the Acronym Originally?
Don Bartholomew, vice president of digital research at Fleishman Hillard, presented a version of the PESO model in 2010. According to PR blogger and PR measurement expert Heather Yaxley, this is likely to be the earliest mention of the model: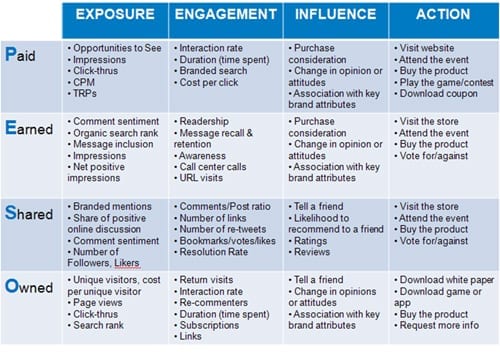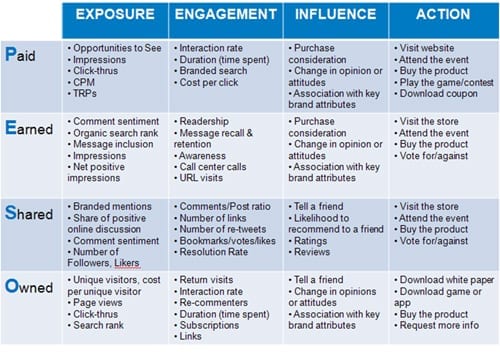 In 2013, PR blogger Gini Dietrich popularised the PESO model on her blog, Spin Sucks: 3Please note that the Spin Sucks model is focused on a wide variety of disciplines, publics, practices, engagement etc., rather than types of media channels.
"In June 2013, Gini Dietrich presented the first iteration of the PESO model you may recognise in a blog post: The Four Different Types of Media. It was followed in August by the post Mobile Marketing: Use the Four Media Types in Promotion, where she talked about integrating paid, earned, owned, and shared."
Source: PRConversations
Read also: The PESO Model: Paid, Earned, Shared, and Owned Media
In short: The PESO model is far from perfect, but it's still useful when analysing the modern media landscape.
ANNOTATIONS

| | |
| --- | --- |
| 1 | The PESO model doesn't solve the social media classification issue altogether, but the typical approach considers various activities on sites like Facebook as different channels. |
| 2 | Please note that there's no industry-wide consensus on whether a social media account (like a brand's Facebook page or Twitter account) should be considered a shared or owned channel. Personally, I classify social media accounts as shared channels since they're not fully under the brand's control. |
| 3 | Please note that the Spin Sucks model is focused on a wide variety of disciplines, publics, practices, engagement etc., rather than types of media channels. |