Tech is embra­cing a trend labelled cor­por­a­tion­al determinism.
So, we might need to rethink our product launches.
We used to do product launches to launch new products. Today, product launch­ing for the sake of launch­ing products might be a pub­lic rela­tions tac­tic of the past. Many big tech com­pan­ies reg­u­larly do big launches des­pite not hav­ing heav­ily over­stated iter­at­ive advance­ments to report.
Classical pub­lic rela­tions advice sug­gests that you should­n't call for a press con­fer­ence if you haven't got any­thing sub­stan­tial for the journ­al­ists to report, but this might be a rule in need of revision.
Let's look at a recent research paper on the topic:
The Strategy: Grandiose Remarks of Self Importance
A recent research paper pro­poses a new the­or­et­ic­al concept — cor­por­a­tion­al determ­in­ism. The abstract states:
"This paper pro­poses a new the­or­et­ic­al concept, cor­por­a­tion­al determ­in­ism, to describe nar­rat­ives by which digit­al media cor­por­a­tions are presen­ted as the main or only agency inform­ing socio-tech­nic­al change. It aims to unveil how digit­al media cor­por­a­tions employ such nar­rat­ives to rein­ter­pret the past of digit­al media, to under­line their lead­ing role in present soci­et­ies, and to show their abil­ity in pre­dict­ing and shap­ing the future."
I'm sure many of us would agree; big tech com­pan­ies have a flair for want­ing to rewrite his­tory and name them­selves as lead dom­i­n­os in chan­ging the world.
It's also fair to assume that big tech com­pan­ies are push­ing this nar­rat­ive past the point of being that obnox­ious type at a social event who can­'t stop talk­ing about just how mag­ni­fi­cent they are.
Nurturing the Myth of the Incessant Revolution
Taking pride in actu­al accom­plish­ments is sens­ible. Revising his­tory to fit with gran­di­ose exag­ger­a­tions is douchebag­gery. In Fast Company, Simone Natale describes the driver of cre­at­ing such myths:
"Believing that one single device brought about a digit­al revolu­tion is like see­ing a crowd of people in Times Square and assum­ing they turned up because you broad­cast on WhatsApp that every­one should go there. It is, how­ever, a con­veni­ent point of view for huge cor­por­a­tions such as Apple or Google. To keep their pos­i­tion in the digit­al mar­ket, these com­pan­ies not only need to design soph­ist­ic­ated hard­ware and soft­ware, they also need to nur­ture the myth that we live in a state of incess­ant revolu­tion of which they are the key engine."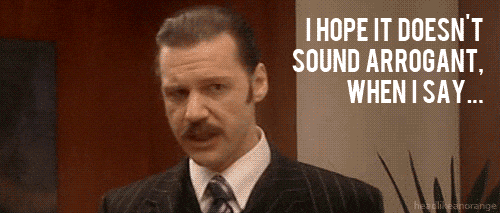 Just Go Ahead and Tell Your Story
Instead of mak­ing it all about the new products, shift­ing the mes­saging emphas­is towards how the brand fits with­in a lar­ger story would make sense.
However, in gen­er­al, there is some­thing for brands to learn from cor­por­a­tion­al determinism.
One long-stand­ing chal­lenge with product launches is the rel­at­ively short spike of atten­tion it gen­er­ates, only to return to nor­mal interest levels shortly after.
Therefore, launch­ing new products with the primary pub­lic rela­tions object­ive might make more sense to rein­force your brand story.