How do you categorise influencers in social media?
Quantifying is often challenging, especially when trying to make sense of human behaviour. But most of us are faced with categorising influencers in social media anyway.
While you can find different types of online influencers on a great variety of platforms, I've chosen to look more closely at the media commonly targeted by businesses.
Here we go:
Different Platforms, Different Influence
Influencer marketing is a powerful marketing tool, but it's also a challenge to standardise since there are so many different types of platforms.
On varying platform influence, Mary Keane-Dawson, Group CEO of TAKUMI, writes:
"Our research showed how trust is earned over time, with consumers tending to trust influencers on legacy platforms such as YouTube more (28%) than those on newer platforms such as Instagram (22%) and TikTok (15%).

However, influencers on both YouTube and TikTok fared well when compared to more traditional brand endorsements. 37% of 16-44-year olds trust a YouTube influencer more than a high-profile figure or celebrity. Meanwhile on TikTok, almost a quarter (23%) of the same age group agreed they trust a TikTok influencer's recommendation over a friend.

And the survey shows how trust is converting into sales for brands. Over a quarter (27%) of consumers have been influenced to purchase a product or service by creators on YouTube in the past six months, followed by 24% of consumers on Instagram and 15% on TikTok. This increases to almost a quarter (23%) of 16-44 year-olds on the platform, showing how different demographics interact differently with each platform."
Different Categorisations, Different Names
There's no shortage of variations when it comes to naming the tiers of social media influencers. STIM, the Standard Terminology of Influencer Marketing, aims to define different levels of social media influencers.
For example, here are the suggested influencer tiers via Mediakix for Instagram and Youtube:
In this instance, STIM prefers to use five tiers instead of four. They also suggest using "elite" for YouTube and "mid-tier" for Instagram.
While catchy, I'm not convinced that naming a tier "elite" is a good idea. Even worse, the Swedish branch of IAB (Interactive Advertising Bureau), IAB Sweden, while suggesting four tiers, argues that Instagram's top level should be referred to as "icons":
| | | | | |
| --- | --- | --- | --- | --- |
| Instagram | Nano | Micro | Macro | Icon |
| Followers | 1K-10K | 10K-100K | 100K-1M | 1M+ |
| Organic reach | 75-100% | 60-100% | 20-60% | 10-50% |
| Engagement | 6-15% | 4-10% | 3-8% | 2-6% |
I'd refrain from using terms such as "icons" or "elite", just as I wouldn't suggest using "legend", "idol", or "superstar". After all, we don't name top-tier journalists "superstar journos" because that would be … silly and cringe.
Naming social media influencers Nano, Micro, Macro, and Mega is my best standard practice for categorising influencers.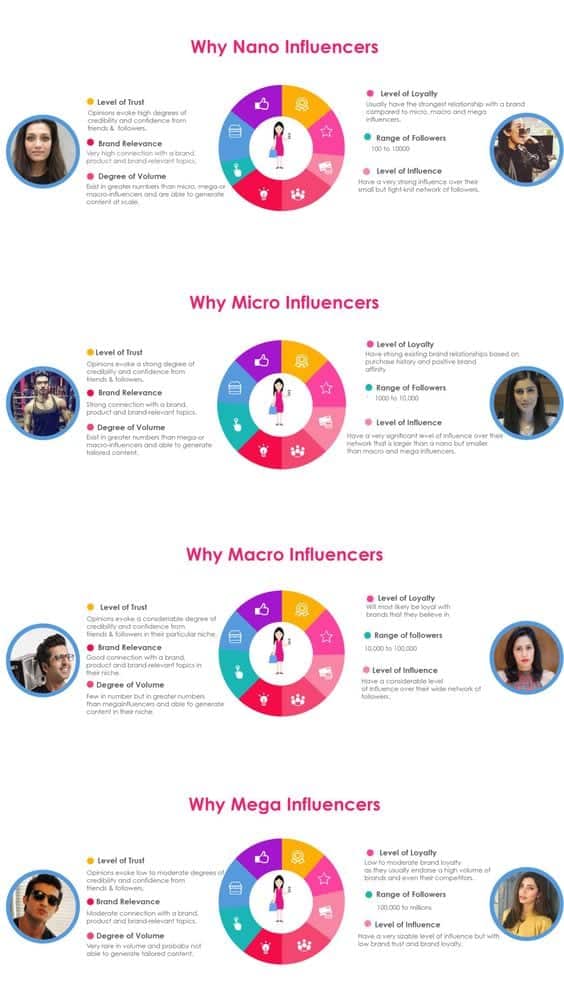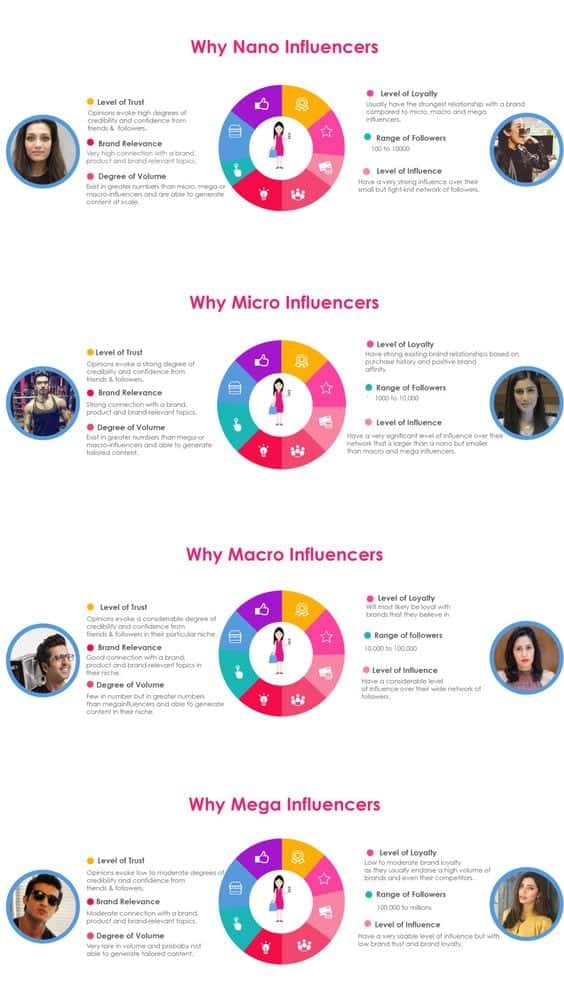 How To Categorise Influencers
As follows, I recommend using the following tiers:
To do this, I use this matrix to categorise social media influencers across creator platforms TikTok, Instagram, YouTube, podcasting, and blogging:
These creator platforms are sorted from TikTok (5M+ followers for a mega influencer) at the top down to blogging (250K+ subscribers for a mega influencer). This approach to categorising influencers across platforms might seem unbalanced at first glance.
However, it's still easier to find a TikTok mega influencer than an individual blogger with 250K+ subscribers.
Thank you for reading this article. Please consider supporting my work by sharing it with other PR- and communication professionals. For questions or PR support, contact me via [email protected].