The engagement pyramid is a simple yet powerful PR model.
We all care about our interests … to a degree.
You should be happy to get 1% to offer their engagement as creators. However, to launch a successful social media campaign, you must also attract contributors and lurkers—even if you can't expect them to invest as much engagement as your top creators.
How do you raise the engagement bar for your campaign?
The Engagement Pyramid (1-9-90)
The Engagement Pyramid
The 1% rule of online engagement was mainly an urban legend on the internet. Still, a peer-reviewed paper from 2014 entitled The 1% Rule in Four Digital Health Social Networks: An Observational Study confirmed the 1% rule of thumb.
Engaged publics typically distribute themselves according to a distribution that has been scientifically proven well before the advent of the internet and social media, and supporting sociologists have made observations for centuries.
The engagement pyramid divides publics into three distinct groups:
When studying internet forums specifically, it's not uncommon to find that 90% of users have never posted (lurkers), 9% are adding only to existing topics and threads (contributors), and 1% are actively starting new subjects and threads (creators).
The engagement pyramid is sometimes called the 1% rule or the 1-9-90 rule.
Read also: The Engagement Pyramid
Identities and Roles
The engagement pyramid (or the 1% rule, or the 1-9-90 rule) is a rule of thumb and shouldn't be applied to broad demographic populations but to publics, i.e. situational interest groups.
We all belong to various interest groups—and our engagement in each varies.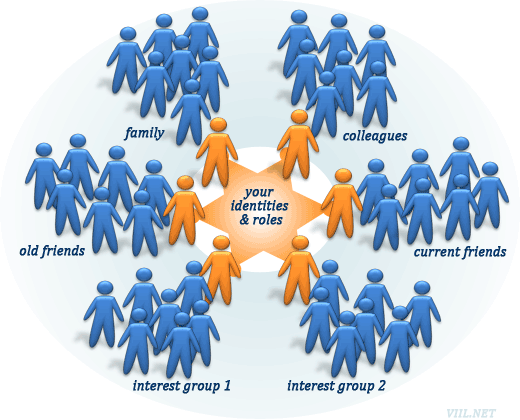 Online engagement relies on the dynamics of special interest groups of like-minded people. Coincidentally, bringing such like-minded people together is something the internet does very efficiently.
If I use myself and my interests as an example:
I've used the engagement pyramid many times to explain how to harness maximum online engagement and why it's crucial to attract clearly defined, special interest groups.
How To Increase Social Engagement
The engagement pyramid hints as to why social sites like Facebook are powerful agents of social engagement:
So, how can your brand increase online engagement?
Cater to creators, contributors, and lurkers alike. If you fail to activate even one of these, your whole digital PR campaign could go bust.
Thank you for reading this article. Please consider supporting my work by sharing it with other PR- and communication professionals. For questions or PR support, contact me via [email protected].
ANNOTATIONS

| | |
| --- | --- |
| 1 | Leon Festinger's theory of cognitive dissonance from 1957 explains why handling contradictory information is psychologically challenging. Festinger's theory on cognitive dissonance and social comparison are two of the most influential theories in the history of social psychology. |