Humans tend to organise themselves in stable group sizes.
What used to be dictated by physical proximity is now completely rid of any such restrictions.
The internet allows us to find many different types of tribes and many different types of people to "include" in our groups.
Today, we live in a wired world where you can maintain meaningful relationships with individuals without geographical connections. But how large can such groups be?
Let's take a closer look:
Dunbar's Number
The most famous group size is probably Dunbar's number:
150—Dunbar's Number
Most of you know Dunbar's Number. It's based on the idea that every one of us has limited social bandwidth.
"Dunbar's number is a suggested cognitive limit to the number of people with whom one can maintain stable social relationships. […] No precise value has been proposed for Dunbar's number. It has been proposed to lie between 100 and 230, with a commonly used value of 150. Dunbar's number states the number of people one knows and keeps social contact with, and it does not include the number of people known personally with a ceased social relationship, nor people just generally known with a lack of persistent social relationship, a number which might be much higher and likely depends on long-term memory size."
Source: Wikipedia
Read also: Group Sizes (From Support Cliques to Tribes)
From Support Cliques to Tribes
But there are other notable group sizes apart from Dunbar's number. These stable group sizes range from support cliques (3-5 people) to tribes (1,000-2,000 people).
Typical Social Group Sizes
Have you ever heard of the social brain hypothesis? 1Zhou WX, Sornette D, Hill RA, Dunbar RI. Discrete hierarchical organization of social group sizes. Proc Biol Sci. 2005 Feb 22;272(1561):439-44. doi: 10.1098/rspb.2004.2970. PMID: 15734699; PMCID: … Continue reading
"The 'social brain hypothesis' for the evolution of large brains in primates has led to evidence for the coevolution of neocortical size and social group sizes, suggesting that there is a cognitive constraint on group size that depends, in some way, on the volume of neural material available for processing and synthesizing information on social relationships."
Source: Discrete Hierarchical Organization of Social Group Sizes
Scientific evidence suggests that people tend to organise themselves not in an even distribution of group sizes but in discrete hierarchical social groups of more particular sizes:
Alas, there seems to be a discrete statistical order in the complex chaos of human relationships:
"Such discrete scale invariance could be related to that identified in signatures of herding behaviour in financial markets and might reflect a hierarchical processing of social nearness by human brains."
Source: Discrete Hierarchical Organization of Social Group Sizes
Read also: Group Sizes (From Support Cliques to Tribes)
It's the science of in-groups in a wired world.
Online Identities and Interest Groups
I would say I do know 150 people that I've spent time with over the years.
But I also know 150 colleagues that I've had. I also know 150 people from the public relations industry, for sure. And I know at least 150 social media naturals, and so on.
How does group formation scale in social media?
I appreciate this model by Viil Lid, PhD candidate in Communication & Information Sciences at the University of Hawaii: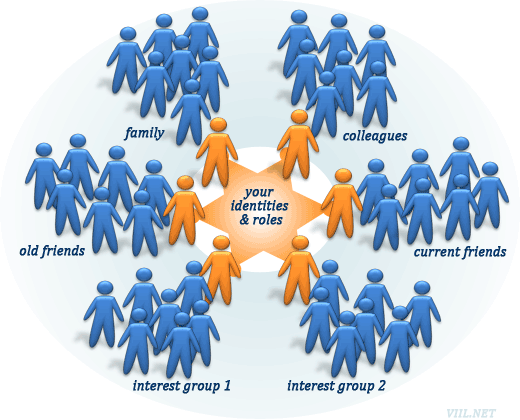 When I'm asked what makes the "social media revolution" so special, I always say that never before in human history have we seen human groups forming at such speeds, almost independent of demographic factors.
It's the amplification of Dunbar's number at the interest group level — not due to any sudden increase in our capability to sustain more than 150 relationships.
Group Sizes of Sustainable Relationships
The effects of digital spread are likened to viral infections because boundary spanners and individual nodes have relationships in several different types of interest networks.
For each of these networks, Liid once again shows us a model that I've been using in several of the seminars I've given: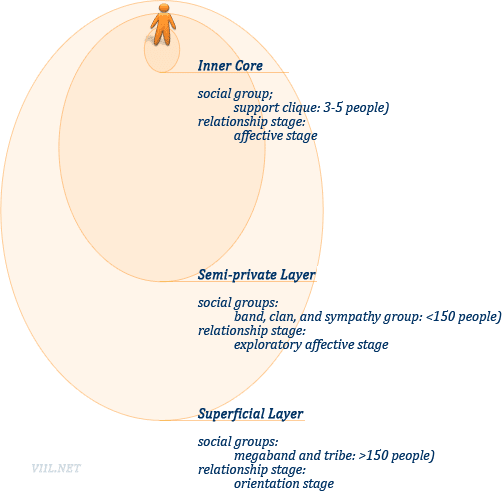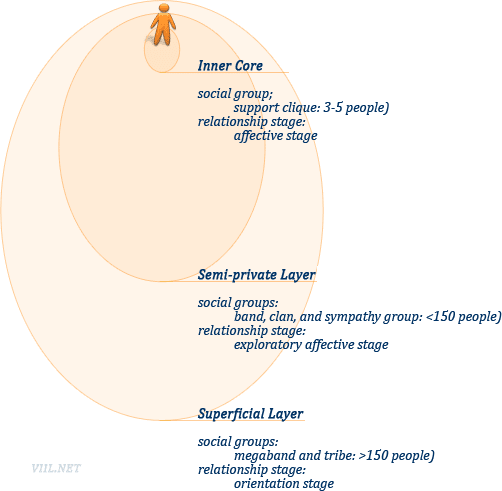 How many "Dunbar, number interest tribes" can a single individual maintain?
If we dig deeper into this question, we must also determine the strength of the individual bindings. Interestingly enough, we see Dunbar's number in action once again:
The Engagement Pyramid
Building trust is a journey from the periphery to the centre. You start any relationship with an individual or a brand by being a stranger.
PR professionals should explore the digital space, not for clicks, memes, or virals but to build and maintain relationships using online social psychology. Social media doesn't scale linearly, but tapping into different and pre-existing interest groups does.
When creating a campaign, it's essential to cater to the inner circles, but don't forget the different layers of the engagement pyramid.
The Engagement Pyramid
The 1% rule of online engagement was mainly an urban legend on the internet. Still, a peer-reviewed paper from 2014 entitled The 1% Rule in Four Digital Health Social Networks: An Observational Study confirmed the 1% rule of thumb.
Engaged publics typically distribute themselves according to a distribution that has been scientifically proven well before the advent of the internet and social media, and supporting sociologists have made observations for centuries.
The engagement pyramid divides publics into three distinct groups:
When studying internet forums specifically, it's not uncommon to find that 90% of users have never posted (lurkers), 9% are adding only to existing topics and threads (contributors), and 1% are actively starting new subjects and threads (creators).
The engagement pyramid is sometimes called the 1% rule or the 1-9-90 rule.
Read also: The Engagement Pyramid
ANNOTATIONS

| | |
| --- | --- |
| 1 | Zhou WX, Sornette D, Hill RA, Dunbar RI. Discrete hierarchical organization of social group sizes. Proc Biol Sci. 2005 Feb 22;272(1561):439-44. doi: 10.1098/rspb.2004.2970. PMID: 15734699; PMCID: PMC1634986. |