Is the Metaverse the future of PR?
This blog article will explore potential opportunities and challenges for the PR industry in the Metaverse.
I've been working with implementation strategies for new technologies since 2007, and I can discern exciting similarities and differences regarding the Metaverse.
The Metaverse is a new buzzword circulating, but several indicators suggest we should take this development seriously.
Let's get right into it:
Entering a Mixed Reality
I spent part of this summer in Dalarna, a picturesque and rural part of Sweden. My brother-in-law brought his Oculus Quest 2, the VR gaming platform, and we played around.
My son, who is six years old, took to the technology as if it was the most natural thing in the world—despite the headset being far too big for him.
The Metaverse, a merger of virtual worlds, is beginning to enter our lives.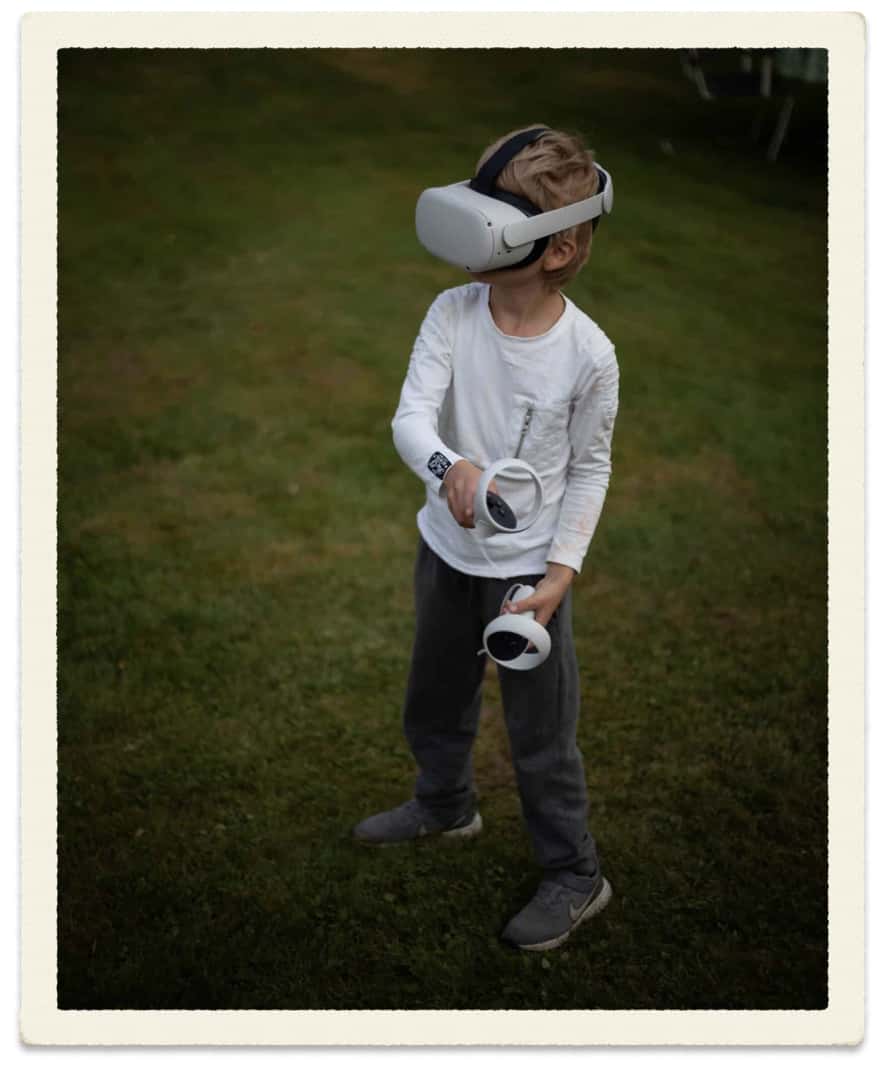 Wikipedia describes the Metaverse as "a collective virtual shared space, created by the convergence of virtually enhanced physical reality and physically persistent virtual space, including the sum of all virtual worlds, augmented reality, and the Internet."
The potential of the Metaverse is tangible:
"Imagine walking down the street. Suddenly, you think of a product you need. Immediately next to you, a vending machine appears, filled with the product and variations you were thinking of. You stop, pick an item from the vending machine, it's shipped to your house, and then continue on your way.

Next, imagine a husband and wife. The husband offers to go to the store, but the wife can't remember the name and type of product she needs. Her brain-computer interface device recognises it for her and transmits a link to her husband's device, along with what stores and aisles it's located in."
Source: The Metaverse Is Coming And It's A Very Big Deal (Forbes).
Gamifying Business
Games will soon be indistinguishable from reality if we maintain even a fraction of our current development speed.
With his now almost archetypical first principle thinking, Elon Musk pointed out that, not long ago, computer games used to look like Pong. Today, games can immerse the gamer in vast and photorealistic open worlds.
Musk goes even further to ask, "How do we know that this hasn't already happened?" According to him—we don't.
"The strongest argument for us being in a simulation probably is the following: Forty years ago we had Pong. Like two rectangles and a dot. That was what games were. Now, forty years later, we have photorealistic 3D simulations with millions of people playing simultaneously, and it's getting better every year. Soon we'll have virtual reality, augmented reality."
Source: Elon Musk: 'We're likely living in a simulation and Pong is proof' (Wired).
A bit closer to our potential base reality, I've hypothesised what happens to PR when the online world ceases to be flat. Almost all of our existing corporate communication has been two-dimensional; it was two-dimensional before the Internet and has remained two-dimensional with the Internet.
The idea is that we'll see a growing number of applications for virtual realities (VR), augmented realities (AR), and 360-degree environments. These realities will then begin to merge into mixed reality.
Does the Metaverse seem to be the logical continuation of that trend—perhaps even a brave new world to counter the Splinternet?
Read also: The Splinternet: Mankind's Battle for Internet Control
The End of the Flat Web
The Earth is round, and we shouldn't worry about falling off the edge. The web, however, has been considered flat and best viewed through 2D surfaces. 1Some people believe that the Earth is flat, too. Good luck with that, by the way.
If the ceases to be flat, things are going to be different.
As communicators and PR professionals, we struggle with conquering a flat web. We tend to think of the online space as a large print magazine. We still talk about pages, even.
But there are lots of ideas from lots of people of how we all could put these new technologies to use:
It's safe to say that we can only begin to imagine the various use cases we'll see emerge from mixed reality technologies.
Facebook and Apple as Prime Movers
With Facebook making serious moves into the Metaverse and persistent rumours about Apple releasing AR glasses, it's not a stretch to imagine that tomorrow's online world will have much more depth.
Immersion is powerful, but it also contrasts utility and cost.
"Form follows function."
Still, however fun and exciting the Metaverse is already promising, especially for kids today, we must also remember that occupying mental bandwidth isn't everything.
Artificial restriction to conserve mental bandwidth can be at odds with asking users to immerse themselves further.
Are Facebook and Apple's strategies to push users towards total immersion good for us? Will we be exposed to unforeseen mental health side effects?
Not Meta's First Dance
We would be wise to remember that the Metaverse has had its fair share of false starts.
Many downloaded and played around with the app Layar, through which you could see a layer of digital content on top of the physical world. Augmentation was also something Google took a stab at with their Google Glass project, but only by using a small viewfinder in the upper corner of the user's visual field.
Meron Gribetz founded Meta Vision in 2014. The company had great ambitions and a working prototype. Funding ran out, and the company had to close shop in 2019. It's not known which company bought Meta Vision's assets.
"The story of Meta's demise is as much about the augmented and virtual-reality industry as it is about hardware startups, their founders, and their often futile attempts to compete with billion-dollar companies."
Source: The Story Behind Meta, the AR Startup That Just Had Its Assets Sold to a Mystery Buyer (Variety).
With companies like Facebook, Apple, and Microsoft invested in the race, the Metaverse is a much more tangible project than it was for a small Silicon Valley startup in 2014.
But AR hardware is tough to get right.
Focus on Comms, Not Tech
Against this backdrop, I worry that brands will become too application-centric for the Metaverse.
Imagine a real-estate brand running apartments and offices. The brand might deploy applications from virtual tours for prospects to augmented environments for its communal areas. Such early developments will likely be costly, and the results will likely be relatively poor from a user perspective.
But we know from past technological advancements that new applications tend to be commoditised rather quickly. In some instances, the applications are freemium, even. For example, WordPress is powering about 37% of all websites (62% of all CMS systems) globally.
As a PR professional today, I advise against developing avant-garde applications for novel technologies. Sure, there won't be a shortage of cool PR ideas for such applications, but we should be mindful of playing to our strengths as a profession—and developing VR- and AR applications isn't one of them.
However technologically determined our societies may be, tech-focused companies and startups will surely volunteer to do most of the heavy lifting of developing these new technologies, driving adoption rates, and pivoting into sustainable use cases. Tech companies will do all this while fiercely racing each other against rapid price drops.
Agencies have already begun pitching ideas for developing incredible new VR- and AR applications. Somehow, we've been down this road several times before.
I know that I sure have.
Early Adoption vs High Entry Costs
When should we, as PR professionals, transition into the Metaverse?
In the early 2010s, I helped several brands develop new user community applications. These applications included gamification features, but developing these platforms also required substantial financial investments.
A few years later, we could buy white-labelled user communities for a dime and a dollar per month.
Today, basic implementation is often a 5-minute process of signing up, uploading a logo, and picking out your brand colours. And there are no shortages of available software sold on the cheap as services.
When Apple releases an AppStore for their forthcoming AR glasses, there will be substantial PR opportunities, for instance.
Will investments in developing early applications outweigh the benefits of doubling down on the contents of your communication? It's an important consideration that deserves priority.
But as a guiding principle: organisations should adopt new technologies when it improves corporate communication—and when implementation makes business sense.
If nothing else, communication is useless when leaving the market behind.
Thank you for reading this article. Please consider supporting my work by sharing it with other PR- and communication professionals. For questions or PR support, contact me via [email protected].
ANNOTATIONS

| | |
| --- | --- |
| 1 | Some people believe that the Earth is flat, too. Good luck with that, by the way. |