There are only a few types of PR paper.
I have to share xkdc's strip because it encapsulates my PR blog, too.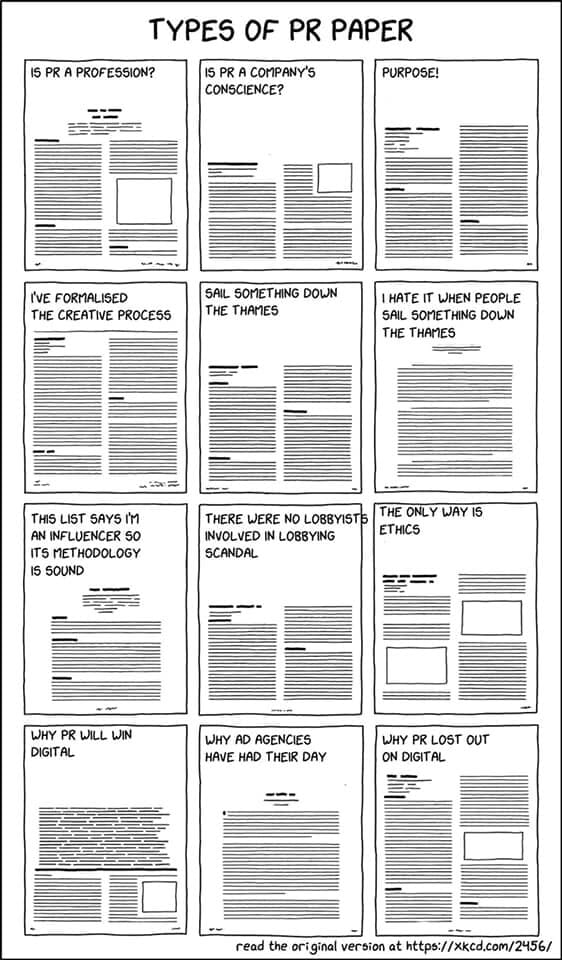 It's funny because it's true.
I've certainly written about all of these topics more than once. While my predictability is funny, I also love that I've found such an unmistakable passion for public relations. 1To be honest, I feel an urge right now to write up a series of twelve blog essays with those exact titles and then name the series "The PR papers" — as if they were the definitive … Continue reading
Also, Randall Munroe is a genius.
Check out the original version of the comic strip here.
Thank you for reading this article. Please consider supporting my work by sharing it with other PR- and communication professionals. For questions or PR support, contact me via [email protected].
ANNOTATIONS

| | |
| --- | --- |
| 1 | To be honest, I feel an urge right now to write up a series of twelve blog essays with those exact titles and then name the series "The PR papers" — as if they were the definitive articles on these subjects, haha. |