Startups should focus on storycrafting.
As a PR professional, I've been helping startups with word-of-mouth campaigns since 2005. Most startups need help with marketing and PR at an early stage.
This article will show you how word-of-mouth works and how startups can get people to talk about their brand.
Here we go:
Word-of-Mouth vs. Reputation
I often meet startup entrepreneurs who are excited about their new venture. They typically have one hundred things already figured out, and they're convinced about their future success.
I love to be around this enthusiasm, and I love driven risk-takers.
Still, few battle plans survive first contact.
Building a business is a constant struggle revising, pivoting, and innovating on the fly. One thing that typically comes up quite early is word-of-mouth and public relations. How do you get people talking?
Most people have the wrong idea about word-of-mouth: they confuse word-of-mouth with reputation.
Your startup will earn a good reputation by continuously delivering value to customers. For an excellent reputation, a business must provide best-in-category value. As time passes, your reputation and fanbase will slowly build and manifest.
Word-of-mouth, on the other hand, typically travels much faster.
But what does this mean?
My Dishwasher Tablet Story
As it happens, I have a dishwasher, and I frequently buy dishwasher tablets.
Over the years, I've come to learn that some tablets work better than others. I've also known notable differences in price points between different brands.
I've found my dishwasher tablet brand of choice through trial and error based on an acceptable compromise between price and quality.
I don't think about it much, but I know what dishwasher tablet I put in my online cart when grocery shopping.
Inside my head, and inside the head of others who have reached the same conclusion about dishwasher tablets, this particular brand has earned itself a good reputation.
The dishwasher tablet is top of mind.
Even if we don't go around discussing our dishwasher tablet preferences with each other, the choice has been made.
The only way to talk about dishwasher tablets is to ask me what brand I would recommend. To get me talking, you must prompt me.
And herein lies the main difference between reputation and word-of-mouth. The basic premise of word-of-mouth is that people will unprompted up your subject.
Otherwise, we would go around talking about quite weird topics.
When Two Friends Talk at a Café
Imagine two friends meeting at a café to catch up.
What will it take to have at least one of these two friends start talking about your business spontaneously?
No matter how strongly I feel about a particular brand of dishwasher tablets, the likelihood of me starting a conversation around them is zero.
So, what would these two friends talk to each other about?
We tend to talk about what's amusing, shocking, scary, unexpected, appalling, demonstrative, and adorable.
There's a statistical chance that one of these friends has dishwasher problems and asks for dishwasher tablet recommendations. And the other friend may have an opinion on dishwasher tablets.
But whatever these two friends talk with each other about, it's not likely to be dishwasher tablets.
If you want people to talk about your startup, you must first understand the distinction between awareness, reputation, and word-of-mouth.
The Trifecta of Brand Awareness
Most startups have reasonable ideas on raising awareness (publicity work, advertising) and improving their reputation (customer satisfaction, referrals).
Still, few have realistic ideas on how to instigate word-of-mouth. And this is perfectly understandable; entertainment is undoubtedly the most elusive aspect of the trifecta of brand awareness.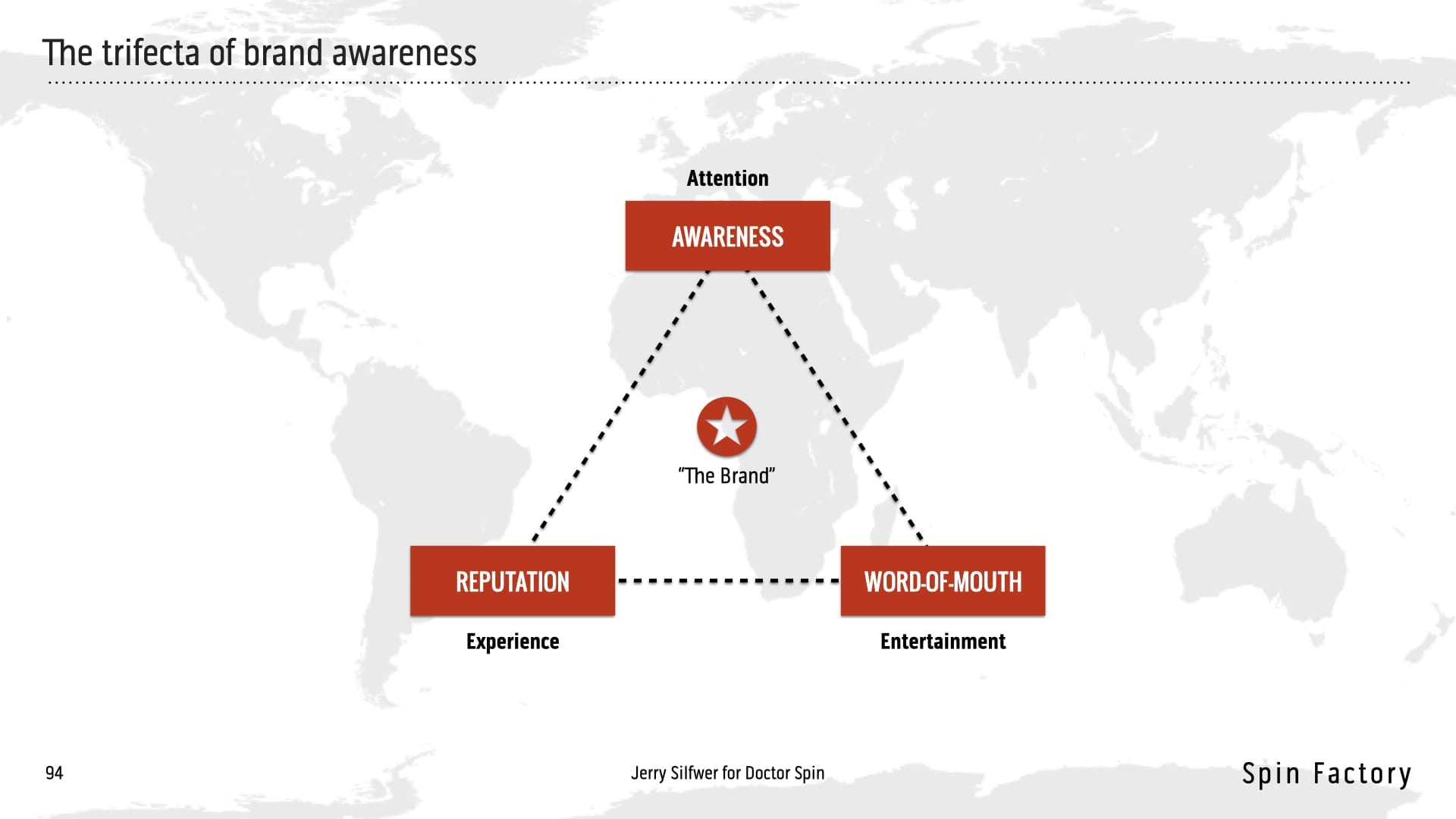 Most people think of entertainment as in the entertainment industry, like Hollywood or Netflix. However, joy is also interpersonal; we entertain each other constantly.
In short: We like to tell entertaining stories.
Are there any entertaining stories about your startup?
Storycrafting vs. Storytelling
Here, we must make another important distinction:
Startup entrepreneurs must distinguish between storytelling (telling a story well) and storycrafting (producing a good story).
Marketers and communicators alike like to think of themselves as great storytellers. And that's good.
Being able to tell a story well is a gift, just as it's lovely to have earned an excellent reputation and enjoy high levels of awareness.
But startups must focus first on crafting great stories.
Crafting great stories and telling great stories are two separate skill sets. Both are important, but if there are no great stories about your startup to tell, what use is excellent storytelling skills then?
Elon Musk—Lousy Storyteller, Great Storycrafter
For startups, I would recommend focusing less on storytelling and more on storycrafting.
Storytelling must come later.
Elon Musk isn't a great storyteller, but the amount of word-of-mouth-worthy stories pouring out of his businesses is astounding.
From how he challenges the fossil fuel industry, almost goes bankrupt, and sends a sports car into space to how he sells flamethrowers, smokes weed on Joe Rogan's podcast, and experiment with baby names.
But would anyone claim that Musk is a great storyteller? If anything, he's pretty awkward in public settings.
Being a lousy storyteller isn't necessarily a bad thing for a startup.
After all, you want your potential customers to be better than you at storytelling. That makes your job of crafting stories worth telling so much clearer.
The Storycrafting Workshop
Traditionally, when we talk about storytelling, we imply both the creation and the mediation of the story.
"A great storyteller" typically points to both the story creator and the story narrator as if they intrinsically must be the same—which is rarely the case. And this is why we need the term "storycrafting".
Alas, my startup advice would be this:
Arrange a storycrafting workshop! Brainstorm by letting your team share their most entertaining stories about your business. And, to this, add ideas on stories that we can manifest.
Keep and refine stories that people would consider telling each other, spontaneous, even when you're not around—a sort of "word-of-mouth litmus test."
Then, create an internal story booklet for your startup and share your stories wherever and whenever you can.
Add one of these stories to your next blog post, another to your next press release, or include one in your following keynote address.
Have your executives and your salespeople share stories. Talk to journalists and influencers; they make their living from telling stories.
And most importantly: Do things that will make for good stories.