I use Kindle highlighting to learn more effectively.
To keep up with everything PR and the ever-changing media landscape, I've devised a software ecosystem to help me learn and put new insights to use.
I like this system because I don't have to commit anything to memory at those exact moments when I'm stumbling across something useful.
Alas, the system doesn't help me remember everything I read: it encourages me to read more and utilise everything I want to know and understand.
The secret sauce? Highlight notes.
Maybe this system could inspire you to stay ahead, too.
The Setup: The Everything PR System
The system I use to stay on top of everything PR makes good use of a few popular services that are easy to access for everyone. However, it does come with a few subscription fees to get the needed functionality.
Also, it's worth noting that everyone is different. I learn by taking notes and then using those notes creatively myself. You might learn differently.
While this system would work for any knowledge-intensive topic and not just PR, it's also worth considering that it's perhaps most useful for experts and thought leaders.
Step 1: Reading Everywhere and Always
I try to read everywhere and always. Before falling asleep. In cafés. In the metro. On busses and trains. When eating lunch solo. And so on.
Whenever I feel like reading, I don't want to begin searching around for something to read. I want something worth reading ready to go.
To always have something to read in a controlled environment, I use a few specific tools:
My E-Reader: Amazon Kindle Paperwhite
The Amazon Kindle Paperwhite is my e-reader of choice. Of course, any e-reader will do, but I recommend a Kindle specifically for the sync options (more on this below).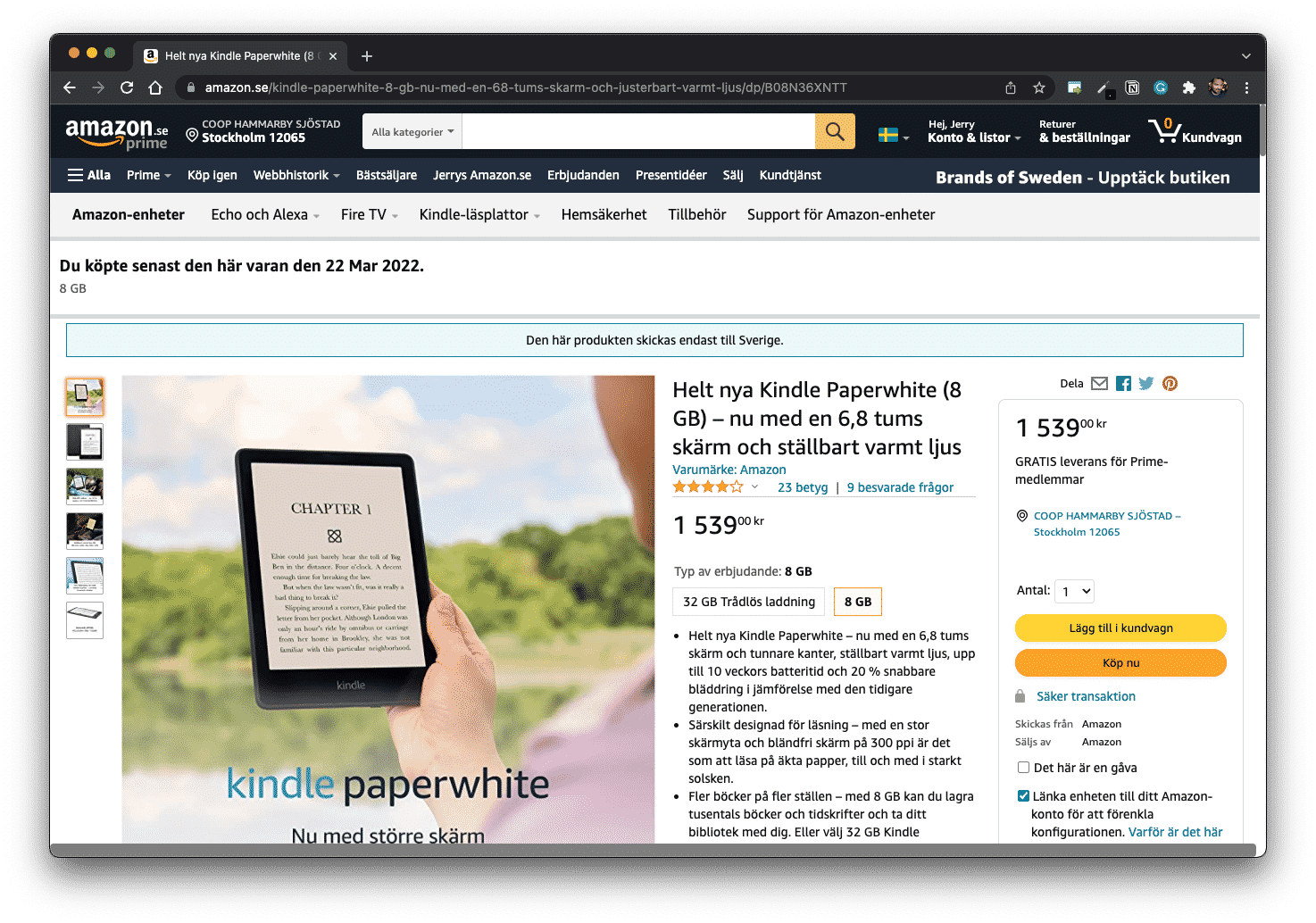 So, how do I supercharge my e-reader?
The key is, of course, to find and read the right books for your needs. I focus on books that are useful for PR, alongside some fiction and books on my interest and hobbies.
I've chosen the Amazon Kindle Paperwhite as my e-reader. I enjoy the backlit screen, and the changing colour temperature paired with 8GB storage is enough for my e-book needs. There are more expensive alternatives with wireless charging, sim-card support, and auto-lighting, but this version is good enough for my needs. 1Constantly buying and reading new books can become expensive, but I've always considered good books a worthy investment.
My RSS Reader: Feedly Pro+
I use Feedly Pro+ on my smartphone to follow carefully curated RSS feeds from sources regarding PR, marketing, social media, big data, business etc.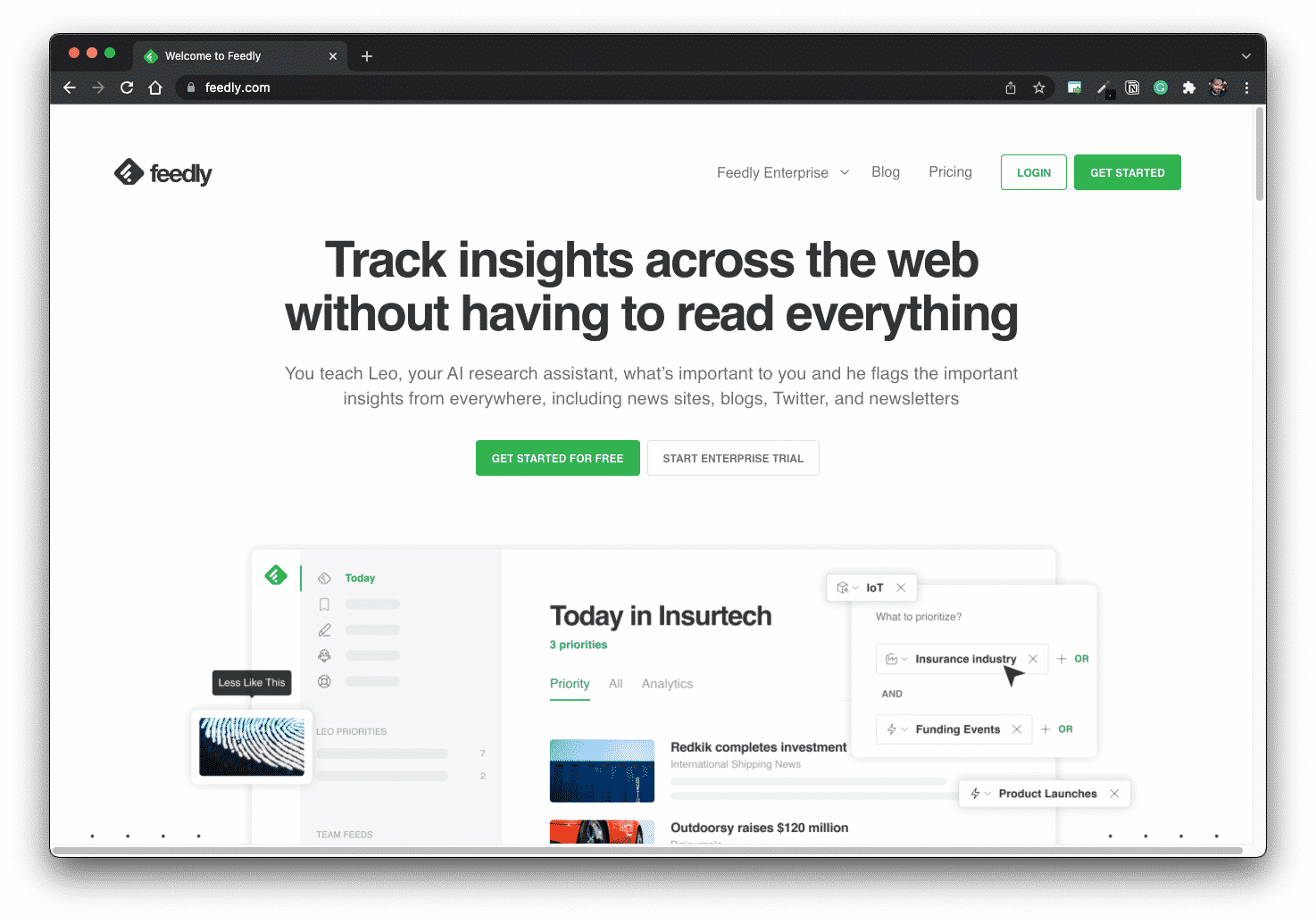 So, how do I supercharge my RSS reader?
I'm adamant about revising my RSS sources at least once every month. My goal is to have my RSS reader only pull in high-quality articles I'm highly interested in reading.
Another way to supercharge your RSS reader is to categorise your feeds by trend. If you want to stay updated on machine learning, create a tag and find a source that will give you the latest updates weekly. Via this structure, you could keep tabs on 100+ specific trends. 2I've considered sharing my RSS feeds on Doctor Spin. However, I also use these feeds to keep up with my clients. And their interests aren't mine to share publicly. In my book, all … Continue reading
You can also get creative with RSS feeds by using services like Google Alerts and other search-based feeds.
The Feedly Pro+ plan will set you back $8 per month, but I've opted for this plan for several reasons, using highlights being the main one. But this plan also allows me to build my RSS feeds, a feature that I use to apply filters to specific feeds with too much noise.

I also use Feedly Pro+ to follow newsletters to put less "stress" on my inbox and instead send myself a curated newsletter with all the best new content.
My Save-for-Later: Pocket Premium
I use Pocket for saving read-later articles.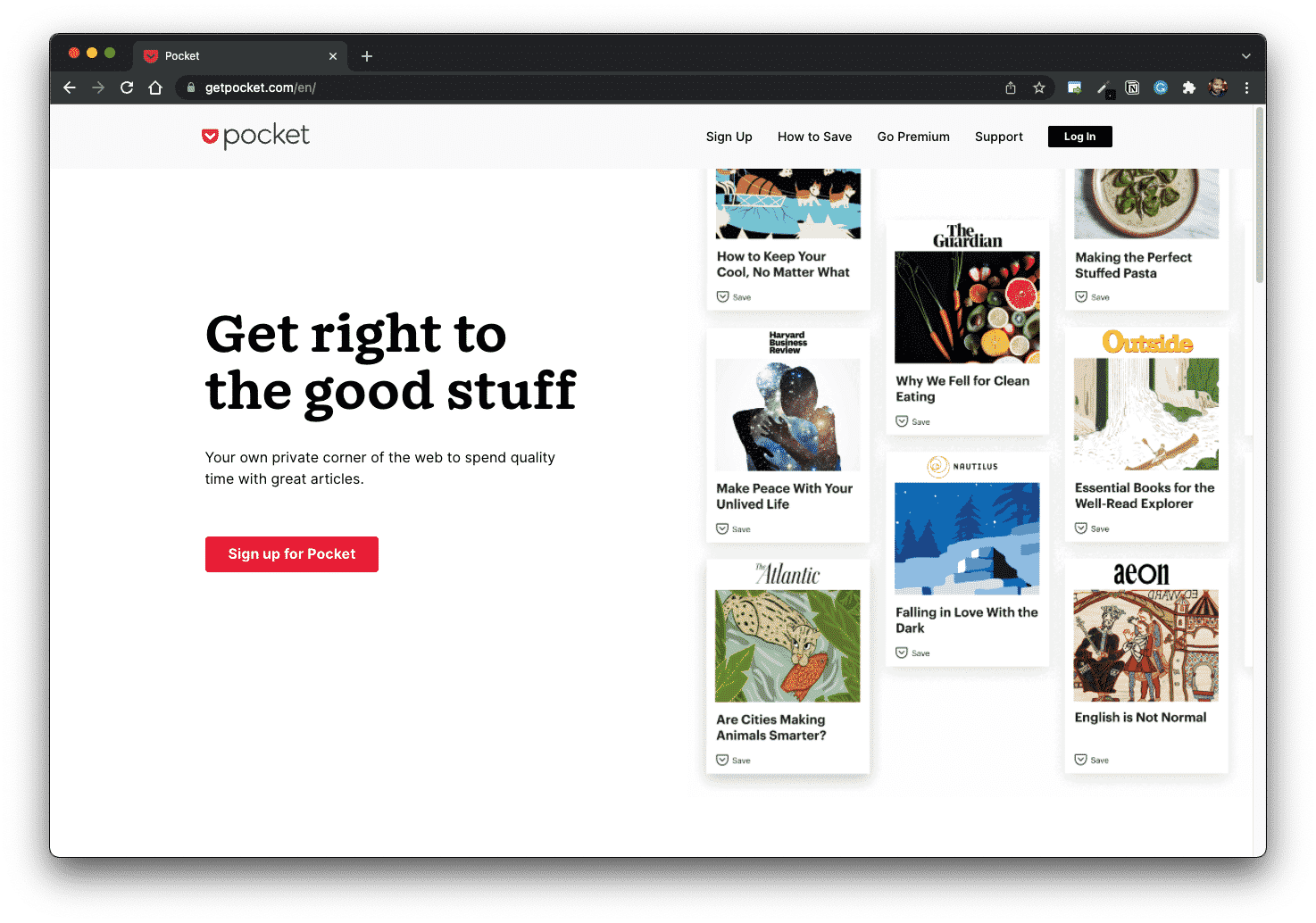 So, how do I supercharge my saved-for-later list?
With so much to read online, and so many articles being shared around my social media feeds, I try to only forward epic content. To paraphrase Derek Sivers—"it's either hell yeah or no."
The Pocket Premium plan costs $4,99 per month. I subscribe to this plan to get unlimited highlights and a permanent library of everything I save.
Step 2: The Highlighting Habit
I highlight the relevant passages as soon as I find anything worth knowing and remembering. Kindle, Feedly Pro, and Pocket all have in-app functionality for making such highlights.
Highlighting is a rewarding habit. It's like stumbling across valuable gems and picking them up. A helpful book or article provides me with many notable highlights.
My Highlight Aggregator: Readwise
Enter the magic: Readwise.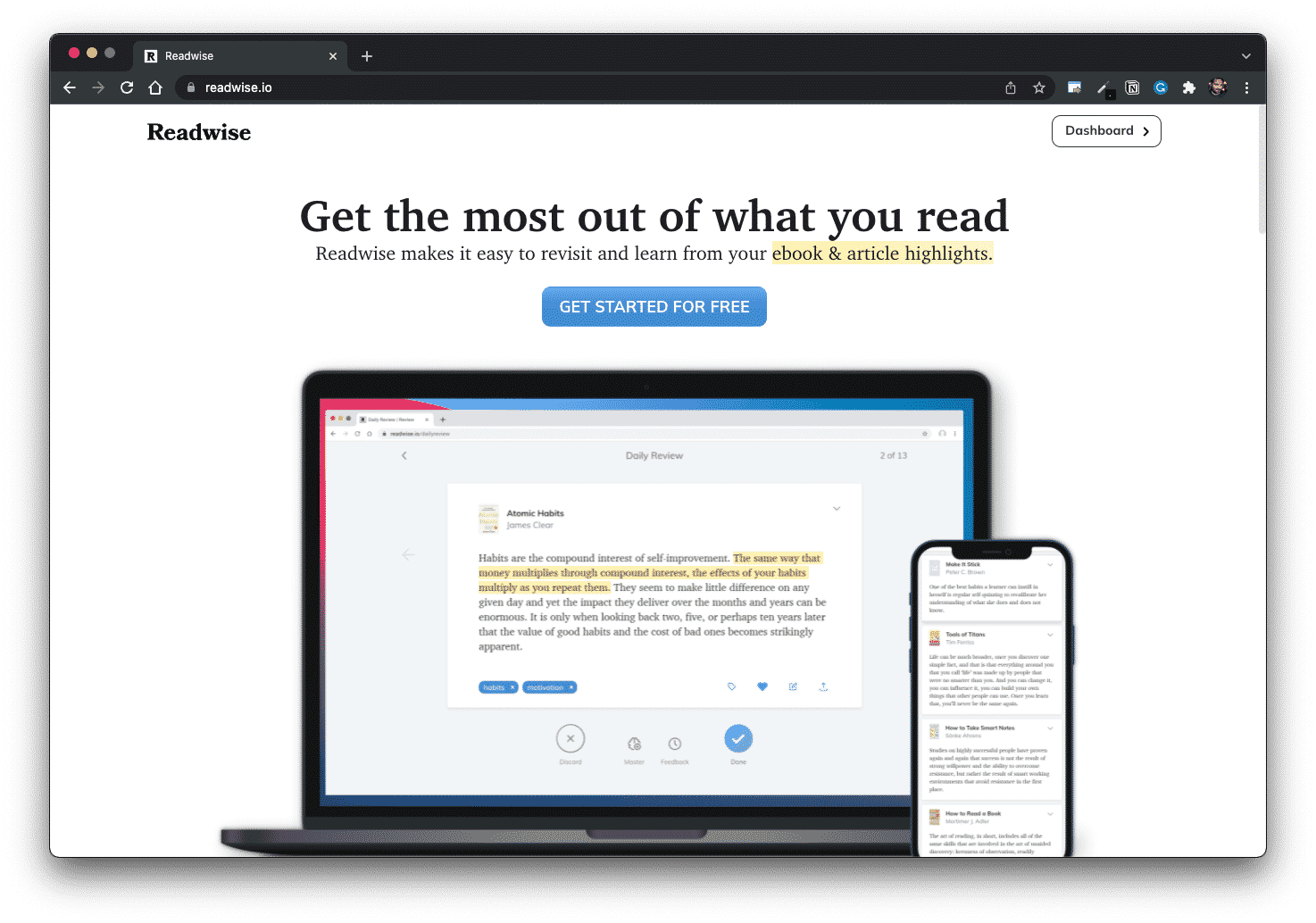 I use Readwise to automatically pull all highlights from Kindle, Feedly Pro, and Pocket. I averaged 5,6 highlights per day during 2021—which equals 2,000+ highlights per year! But that's not the end of it.
Readwise will then do two more things for me. Once every day, it sends me an email with a random selection of highlights to my inbox for review. This is the best newsletter in my inbox by far.
The second thing Readwise does is push all my highlights into my "second brain"—Notion.
Readwise is a subscription service that costs $7,99 per month.
Step 3: Putting the Knowledge To Use
My Content Management System: Notion
Notion is a note-taking tool with streamlined database functions and much user freedom. 3To make the most out of using Notion, I recommend Ali Abdaal's YouTube channel on personal productivity.
Since Notion is my everything-online tool, I spend much of my working hours in Notion. I use it for planning, remembering, reviewing, creating etc. So, accessing a wealth of carefully curated highlights of pure knowledge within my online workspace is fantastic.
I use the highlights in Notion to "supercharge" blog articles, online courses, and social media content. I also love to casually review these highlights and tag them to use them for building new habits, setting goals, and making changes to my life in general.
Despite being the most potent tool in this system, Notion is free for single users.
Total Cost: The Everything PR System
The total monthly cost for this software ecosystem is $20,98 (not including the price of new books, an e-reader, and a smartphone).
It adds up using various subscription streaming services, premium online marketing, and website tools.
But I find this system to be a worthy investment. I work as an expert consultant, speaker, content creator, and educator in a fast-paced environment. I need to keep my PR knowledge updated and fresh. And I find learning to be one of life's greatest pleasures.
Thank you for reading this article. Please consider supporting my work by sharing it with other PR- and communication professionals. For questions or PR support, contact me via [email protected].
PR Resource: Pavlov's Inbox
Pavlov's Inbox
Pavlov's Inbox is an email system built around the idea that your inbox problems cannot be solved by more efficiently processing email (e.g. Inbox Zero and similar systems). Such systems will only reward unfavourable sender behaviours.
Pavlov's Inbox system assumes that you can influence the behaviours of those sending you emails—through conditioning.
Pavlov's Inbox system is based on psychological ideas on how to reward and punish email behaviours in a socially viable manner (being rude as "punishment" might only be detrimental to your professional reputation).
The operating principle of Pavlov's Inbox is to a) reward favourable types of emails by minimising the amount of work required by the sender and b) punish unfavourable emails by maximising the amount of work required by the sender.
Read more: Pavlov's Inbox
ANNOTATIONS

| | |
| --- | --- |
| 1 | Constantly buying and reading new books can become expensive, but I've always considered good books a worthy investment. |
| 2 | I've considered sharing my RSS feeds on Doctor Spin. However, I also use these feeds to keep up with my clients. And their interests aren't mine to share publicly. In my book, all confidentiality agreements between PR consultants and their clients are sacred. |
| 3 | To make the most out of using Notion, I recommend Ali Abdaal's YouTube channel on personal productivity. |